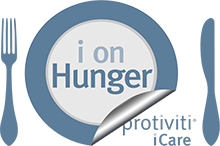 21 Participating
Countries
14,750,586 Meals
Delivered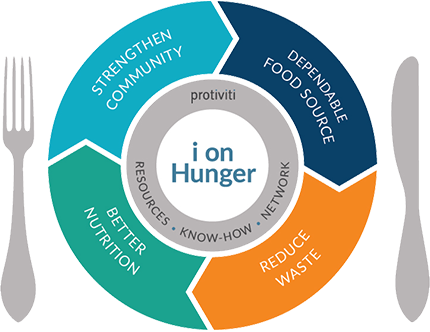 Protiviti's i on Hunger program allows us to give back to our communities through the organizations we serve, creating a lasting impact on recipients. It also helps our organization deepen relationships and create exceptional experiences for our people and clients.
With a spotlight on sustainable impact, we aim to improve food availability, quality and utilization as well as attack root causes of hunger, thus reducing the demand. We will continue to increase our efforts to help those in need as we have an ongoing commitment to the program, because we know that hunger doesn't stop – and neither do we!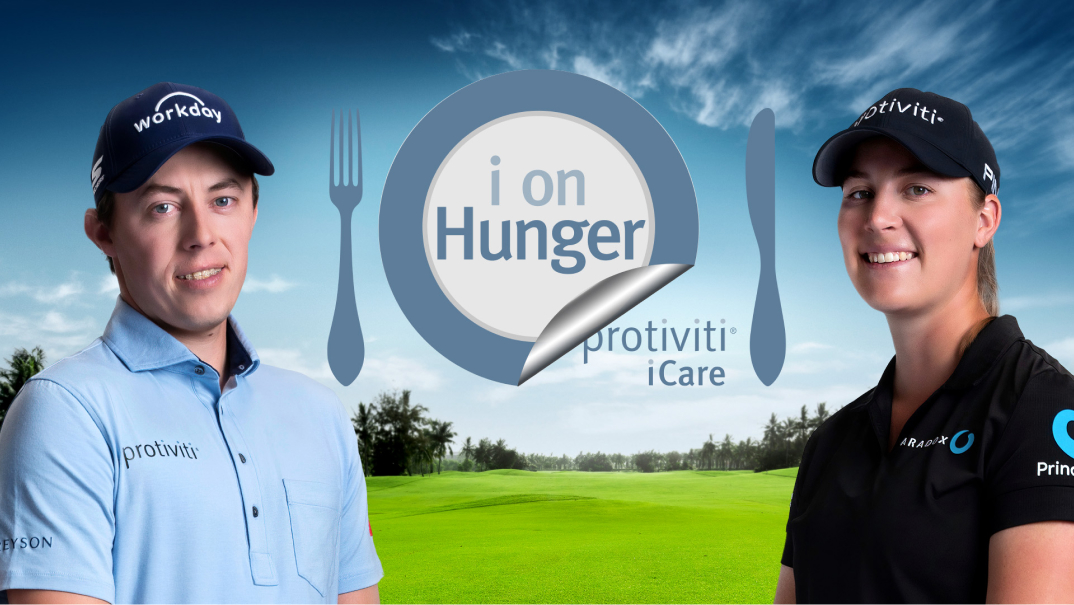 For the third consecutive year, Protiviti is aiming to donate more than 150,000 meals to non-profit organization U.S. Hunger, based on the total number of birdies made by its golf brand ambassadors Matt Fitzpatrick and Jennifer Kupcho during the 2023 Major Championships. Launched in 2021, the 'Birdies for Meals' campaign is part of Protiviti's global i on Hunger community service program focused on reducing world hunger and strengthening communities. Click the link to join us in the fight against hunger. Donations can be earmarked for domestic or international distribution via U.S. Hunger and Convoy of Hope respectively.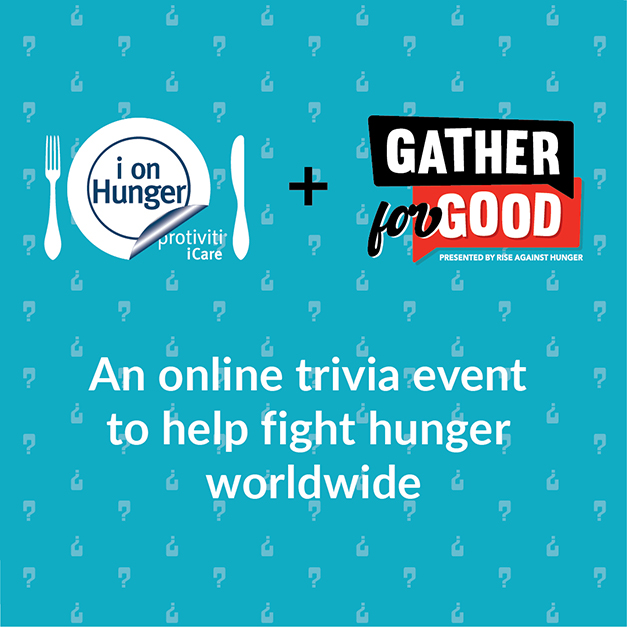 Since 2014, Protiviti and Rise Against Hunger have partnered to provide nutritious meals for people facing hunger around the world. During that time, Protiviti and our clients have packaged over three million meals with Rise Against Hunger!
On Giving Tuesday, November 30, 2021, Protiviti hosted a company-wide, virtual trivia event called IOH Gather for Good. Our employees joined Rise Against Hunger for an exciting, competitive game of trivia. Additionally, Protiviti made a corporate donation to Rise Against Hunger that equated to more than 35,000 meals for those in need.
Through this fun, fast-paced IOH event, Protiviti continues to help others as we know hunger doesn't stop and neither do we!
Throughout 2020 Protiviti stayed strong and found ways to continue to give back to our communities during the COVID-19 pandemic. Last September, we launched our i on Hunger – Together as One Campaign on International Day of Charity as a way for our people globally to share how they had been helping to lessen the hunger burden in their communities during these challenging times. Protiviti offices hosted a variety of virtual events that raised money for meals and/or donated food to people in need. The campaign culminated on Giving Tuesday, December 1, a day dedicated to doing good and showing kindness to others.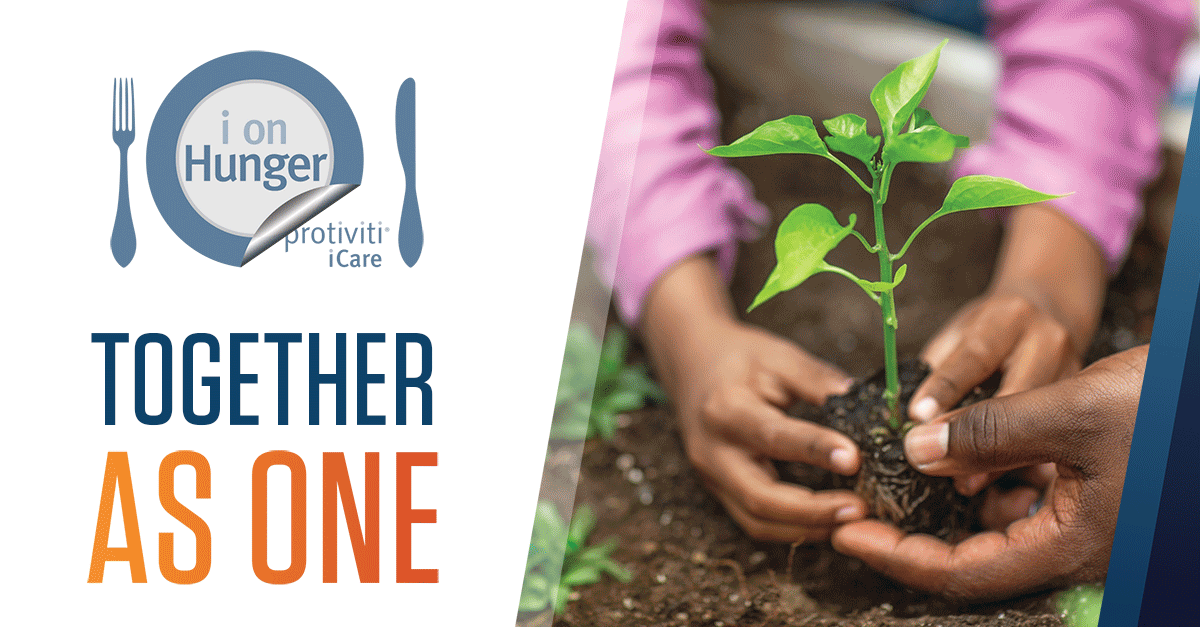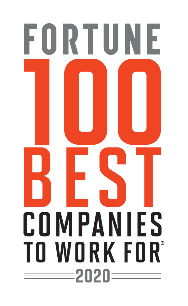 An external survey found that 94% of Protiviti employees feel good about the ways they contribute to the community.

The clients we work with are central to our success. More than 350 client organizations from around the world have participated in i on Hunger activities to work with us to address global hunger.

Click here to read more about i on Hunger in our parent company Robert Half's Environmental, Social and Governance Report.
"The camaraderie was phenomenal. I think our employees felt good about what they had achieved together, and so did our clients."

Joe Tarantino,

Protiviti President and CEO
Protiviti's i on Hunger program received a Communitas Award in 2015 for excellence in community service and social responsibility
Protiviti received an Excellence in Social and Community Investment Achievement award from Consulting magazine in 2015 in the Community Outreach Initiative category for the launch of i on Hunger
Protiviti received a second Excellence in Social and Community Investment Achievement award from Consulting magazine in 2017 for the continuation and expansion of its i on Hunger program
Protiviti received a NACE (National Association of College and Employers) Recruiting Excellence Award in 2018 for our success in bringing i on Hunger to college campuses as part of our recruiting program
Protiviti received an American Business ("Stevie") Silver Award for i on Hunger in the category of Corporate Social Responsibility Program of the Year, 2018
Non-profit organization Feeding Children Everywhere named Protiviti one of its Hunger Heroes in 2017 and again in 2018 for partnering alongside the non-profit in its fight against hunger
Protiviti's i on Hunger program received the "Best in Biz" Silver Award for Corporate Social Responsibility Program of the Year in 2018
Protiviti's i on Hunger program named the 2019 recipient of St. John's University's International Medal, awarded for distinguished contributions to international goodwill
Protiviti received a Bronze Telly Award for i on Hunger's 10 Million Meals Milestone Video in the category of General Social Impact, 2020
Find your local
food bank
Find Food pantries
in your area
© 2023 Protiviti Inc. All Rights Reserved. Protiviti Inc. is an Equal Opportunity Employer, M/F/Disability/Veterans